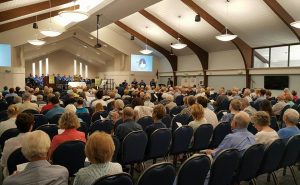 While there are many creative ways that young people write reports about their summer vacations that creativity rarely extends into adulthood.  Rather than attempt such an ambitious project, I offer some insight into one hour of my summer vacation: worship at Naples United Church of Christ.
Under Construction
No church is ever complete. No community of faith has ever arrived.  Every congregation is always under construction.
Given these theological assertions, I was pleasantly surprised by just how much construction I encountered upon arriving on the church campus.  I knew it was a good sign when the church felt it was in my best interest to offer volunteers adorned in brightly colored vests stationed strategically to direct me to an available spot in a very torn up parking lot that was void of a logical traffic pattern.
My parking lot joy was overcome by worship space euphoria as I followed a growing wave of folks into a space far from the sanctuary: a fellowship hall temporarily re-purposed for worship while the sanctuary undergoes renovations.
Always Improvising
The United Church of Christ (UCC) is every bit as much a part of Mainline Protestant Christianity as it appears to be.  The printed order of service in the bulletin of this proudly UCC congregation featured a familiar liturgy.  The chancel was traditionally fashioned and furnished such that the robed choir was placed in the front and center.
Given this context, I was relieved to learn this was not worship as scripted; it was a sacred outline that invited improvisation.  Two key elements embodied this more fully than the others: prayer and music.  The pastoral prayer was crafted as it was offered, and the robed choir was heavily supplemented by a jazz trio.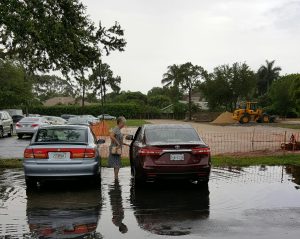 Never Ending
Worship lasts an hour (or, at most, a few minutes longer).  Worship ends after the pastor pronounces the benediction and makes her or his way to the door.
This expectation was shattered when a well meaning (and well informed!) usher interrupted the benediction with wild arm motions that looked like he was passionately playing a game of charades.  Instead, his verbal utterance and the words it led the pastor to share informed those gathered that the skies had opened and so much water was pouring down that it was in our best interest to remain indoors and continue our experience.  (For those who otherwise would wonder what happened, I note that nearly everyone present complied with the request aided by the musical offerings of the jazz trio.)
So What?
I traveled over 1,000 miles for vacation yet found myself back at home in a community of faith that I knew well for many years.  Everything was the same yet everything had changed.
The Spirit of the Living God was (and, I trust, is and will continue to be!) blowing freely.
Encountering the holy changes people.  This worship experience changed and continues to both challenge and change me.
What was your last summer vacation worship experience like?
How open are you to encountering God in worship in ways that differ from your every week "normal" experience?
Tweet