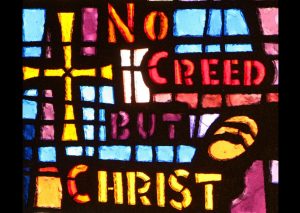 Sermon Text: Mark 12:28-31
Sermon Excerpt
I have one Christian education activity I use more than any other to help Christians work through what Christianity is all about.  I have facilitated it in many churches with youth and also with adults.
This is how it works.  Those gathered are divided into small groups of five to eight people.  Each small group is asked to create a list of what it is one must believe to be labeled a Christian.  The only rule is that for any item to make the list, every member of the group must agree it belongs on the list.
The conversation tends to be non-stop.  The scribe rarely is overly taxed by the task of writing.  When the allotted time is up, the small groups report their findings to everyone present.  Almost all lists contain less than ten items.  Some lists are non-existent because the group was unable to agree on anything.
This learning activity doesn't end there.  For part two we compare all of the small group lists to each other, then place any item that appears on every list on a new master list.  This new list represents what everyone present has agreed Christians must believe.
The shared list is always quite short.  Anyone present is then free to suggest a new item for our shared list.  For it to be added, however, everyone present must agree.  After the group feels good about their work, the lesson ends . . . (read manuscript or watch video)
So What?
This Lent why not move beyond that which divides the world's billions of Christians that sociologists neatly group into more than 30,000 different denominations by focusing on united vision – a common creed.  You may know it as the Greatest Commandment or as the Jesus Creed.
Hear, O Israel, the Lord our God, the Lord is one. 

Love the Lord your God with all your heart and with all your soul   and with all your mind and with all your strength.'

The second is this: 'Love your neighbor as yourself.' There is no commandment greater than these."
Will you make this your Lenten creed and commit to saying it at the start of your day every day?
Tweet