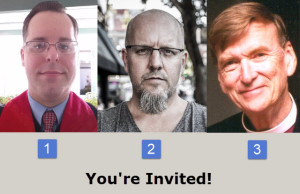 Consider this your personal invitation to join me and many others for one of three events I am facilitating over the next four weeks:
Sunday, January 11 at Fort Myers Congregational UCC (Fort Myers, FL).  Join us at 10:00 a.m. for worship on the occasion of my first Sunday to preach since assuming the role of Transitional Minister (more about this new role).
Tuesday, January 13 at Naples United Church of Christ (Naples, FL).  Join us at 7:00 p.m. for Christian Piatt's talk based on his latest book: postChristian: What's Left? Can We Fix It? Do We Care? (more about this free event)
Friday, February 6 – Saturday, February 7 – Sunday, February 8 at Naples United Church of Christ (Naples, FL).  Join us for one, two or all three days of Bishop John Shelby Spong's visit as he delivers a series of lectures based on his latest book at Encountering the Fourth Gospel (more about this event, including information about purchasing tickets).
If none of these will work for your schedule or if you are simply interested in even more opportunities check out the 2015 Adult Enrichment Brochure for Naples UCC or check the Fort Myers Congregational UCC website for news about upcoming educational offerings.
So What?
In Southwest Florida we have a name for the time of year when so many wonderful events happen close together: season.  For many, season is a time of year when friendships flourish and calendars are full.  Whether you are in the area for just a few days, staying for a few months, or call this your home all year, I encourage you to say yes this season to at least one invitation designed to enrich your journey of faith.  For those residing elsewhere, why not make committing to attend at least one such event a priority or even a resolution?
Share an event you attended recently that contributed positively to your journey of faith.
Share one of the special events or ongoing classes/groups your congregation offers that you have found to be particularly meaningful.
If you happen to attend one or more of these three events, be sure to introduce yourself. I look forward to connecting in person.
Tweet