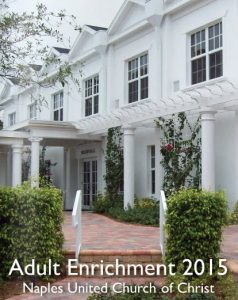 Last week the fourth annual Naples United Church of Christ Adult Enrichment brochure was published.  While this booklet is shared with around 1,000 households by old fashioned postal mail in a single mailing, the electronic version is shared with an even larger audience over a much longer time period.
History
Like most newer initiatives in an established congregation, this marketing piece has developed over the years. A basic timeline:
2012 – a simple booklet offering information about adult education programs for "season" (January-March) – a time when this congregation's worship attendance triples compared to the summer months
2013 – a section for music was added and the date range was expanded slightly
2014 – a section for fellowship was added and the date range was expanded significantly (October-April)
2015 – the education section focused exclusively on religious education rather than offering a mix of general education and religious education (the general education component continues to be a vital component of the adult education ministry, but is advertised through other channels)
So What?
Since 2011, I have served this congregation in a part-time role as Director of Adult Enrichment.  I created the annual brochure to bring together the main adult education offerings into a single booklet, and since its warm reception it has evolved into a document designed to provide adults with a menu of enrichment opportunities spanning education, fellowship and music.  In its current form, it is the congregation's most widely distributed document in both paper and electronic formats.  As a congregation that offers enrichment to all people, we are very intentional about communicating an extravagant welcome to the wider geographic community (and, at least digitally, well beyond).
If your congregation had a similar brochure would you prefer to receive it by postal mail or by e-mail or both?
Does your congregation have a single brochure or other document focused on adult enrichment that includes dates, times, descriptions and costs for offerings?  If so, what do you appreciate most about it? what one change to it do you feel would be most helpful?
How well does your congregation balance the need to advertise all adult enrichment offerings together with the needs of specific ministry groups to retain some ministry specific communication and marketing efforts?  What is one tip, lesson learned, or best practice that you have found useful to ensure both sets of needs are valued and framed within the congregation's overall communications plan?
Tweet