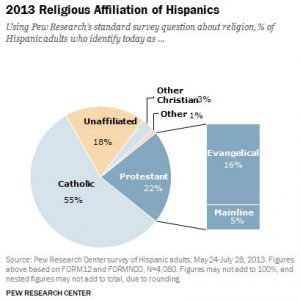 The longstanding cultural expectation that Latinos are overwhelmingly Catholic is shifting.  New data from Pew Research finds that "a majority (55%) of the nation's estimated 35.4 million Latino adults – or about 19.6 million Latinos – identify as Catholic today."  To put this in perspective, one must understand that the percentage of Latinos self-identifying as Catholic has been declining for two decades, and the rate of decline is accelerating.  Over the last four years alone, the number has dropped by 12%.
So What?
The current religious affiliations break down as follows:
55% Catholic,
22% Protestant (16% Evangelical & 5% Mainline),
18% Unaffiliated (none)
3% Other Christian
1% other
A cultural shift has been happening for many years.  Today, "nearly one-in-four Hispanic adults (24%) are now former Catholics." In the future, it is only reasonable to expect that this number will rise dramatically (and it is reasonable to speculate much further down the road it will level off after most Hispanics have no experience of Catholicism from which to leave).
Were you aware of this dramatic shift in religious affiliation?
What are the implications of this shift for your local congregation?
Tweet