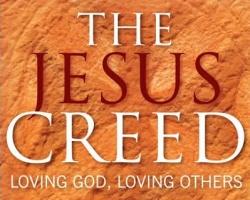 Sermon Text – Mark 12:28-31
Sermon Excerpt
Every semester I teach a survey course in world religions at Hodges University.  While most students are fascinated to learn about a new religion every week, they tend to find the pace challenging.  When we reach the eleventh week of the term, many breathe a sigh of relief since it is the week we consider Christianity.
Many of my students, perhaps like most of you, feel confident they know Christianity better than any other religion.  We know who we are and what we do, but do we know how others perceive us?
Rather than sharing the perspective of an outsider who practices another religion and has some knowledge of Christianity, I want to share the perspective of someone completely unfamiliar with the way of Jesus . . . (read the full manuscript)
So What?
The Jesus Creed (Mark 12:28-31) is the only creed I can imagine being embraced both by those traditions for whom the recitation of creeds is normal as well as those for whom the guiding principle for creeds is that there is no creed but Christ.  It is Jesus' creed, and it should become ours.
In my experience, reciting the Jesus Creed regularly changed me.  It made me far more aware of my surroundings, including my interactions with others.  It also helped me become a more loving person.
Have you ever been intentional about reciting the Jesus Creed regularly for any period of time? If so, how did it change you? If not, would you consider giving it a try?
What role has the Jesus Creed/Greatest Commandment had in your own faith formation?
Tweet