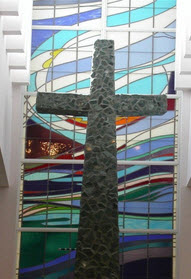 Today I have the privilege of preaching at United Church of Marco Island.  My sermon texts are Psalm 1 and Luke 14:25-33.
Sermon Excerpt
Which of you would plan to build a new custom home without creating a detailed budget, and ensuring you have the necessary funds to complete construction? If you do not count the cost and only partially build the home, then it will be worthless and you will be the laughing-stock of your community.
Or can you imagine the leader of a powerful nation choosing to begin a military endeavor without a clear plan of action and agreed upon desirable outcomes? If he did not count the cost and launches an attack to satisfy the requests made of him, then his nation may endure military, political and economic consequences that linger long after he leaves office.
Hearing these stories should flood our minds with thoughts related to the wide ranging costs associated with any endeavor of significance.  Cost, after all, is rarely just about money.
The decision to build a home, begin a military campaign, or become a disciple should not be made lightly . . . (read the full manuscript or listen to the message).
So What?
Discipleship isn't cheap, but it is well worth the cost.
Authentic discipleship isn't easy, but it is essential.
How would you define "authentic discipleship"?
Do you consider yourself to be an authentic disciple? Explain.
How effective is your local congregation at nurturing authenticity?
Tweet