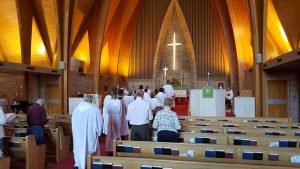 Eight years ago I wrote about how clergy fared in an annual Gallup survey on the American public's views of the honesty and ethical standards of a variety of occupations.  In 2010, I noted that "clergy ranked 7th among the professions surveyed. Just over half (53%) of all respondents rated the honesty and ethics of clergy as high or very high." From the start of the poll in the 1970s till 2010 the percentage of those rating clergy honesty and ethics as high or very high had always been between 50% and 67%.  The low of 50% had come the year before in 2009.
This past week I encountered the latest results for the same Gallup survey.   The percentage of those rating clergy as high or very high has been declining since 2012, and reached an all time low in 2018 at 37%.
From Gallup to Pew
The continued decline in the public's view of clergy as honest and ethical is troubling, but is only part of the story of the fall of the profession in the eyes of the public. In 2016 I wrote about a then recently released Pew Research Center report showing that only 52% of the American adults "say they have either 'a great deal' or 'a fair amount' of confidence" that clergy will act in the interest of the public.
So What?
The reasons for the dramatic and rapid decline in the public perception of clergy as honest, ethical and trustworthy is well documented.  Stories of clergy incompetence and clergy misconduct are far too common.
It isn't possible to simply return to an earlier era nor, in my view, is it desirable.  We need clergy today who are consistently honest, ethical and trustworthy.
Rev. George Mason, Senior Pastor of Wilshire Baptist Church in Dallas, made the following remarks about the Gallup survey:
Ministers who are trustworthy and who are reliable and who people can trust for their spiritual journeys are seen as all the more remarkable now because there is more of a suspicion of the profession generally.So, it's an opportunity in some ways even as it's a frustrating cultural development.
Being honest about the current public perception is healthy.  Striving to view it is an opportunity is hopeful.
Share a story of a minister who has impacted your life and who has been consistently honest, ethical and trustworthy throughout their ministry.
Share some ways you feel we can make the most of this opportunity. When replying let us know if you are writing from the perspective of someone who is clergy or someone who has never had such a role.
Tweet