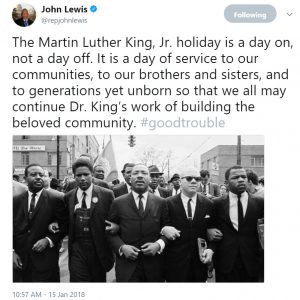 This year I did not use Martin Luther King, Jr. Day as an opportunity for furthering the important work Dr. King began.  Instead, I occupied myself with the task of unpacking boxes as my family settled into a new home.
I did, however, manage to see many familiar quotes attributed to Dr. King on my social media feeds. I also saw a few recommendations that the work these quotes spoke of is a way of life rather than merely the exception to be noted once a year.
John Lewis
John Lewis wrote the most insightful tweet I read:
The Martin Luther King, Jr. holiday is a day on, not a day off. It is a day of service to our communities, to our brothers and sisters, and to generations yet unborn so that we all may continue Dr. King's work of building the beloved community. #goodtrouble
Cornel West
Cornel West authored the most challenging article I read: "American is Spiritually Bankrupt. We Must Fight Back Together."
According to West, part of our shared response is what he terms a "prophetic fightback" – an effort that consists of
a moral and spiritual awakening that puts a premium on courageous truth telling and exemplary action by individuals and communities.
So What?
I needed to be reminded that by missing out on doing something on a specific day of the year I have not missed out in participating in the ongoing work of creating the beloved community.
I also needed to reconnect with those who are at the forefront of continuing Dr. King's work, including William Barber II – a man that West called "the most Martin Luther King–like figure in our time."  Barber's recent revival of King's Poor People's Campaign is a direct link, and much of his earlier work is clearly aligned with King.
I encourage you to spend some time reading some of King's many powerful, prophetic, and provocative words.  And, I hope your connection with his efforts leads you to adopt a lifestyle that every day is a "day on" until all of Dr. King's dreams are realized.
Note: In recent years I wrote more traditional posts for Martin Luther King, Jr. Day including MLK: Paul's Letter to American Christians, Completing the Dream, and The Acceptable Year of the Lord.
Tweet