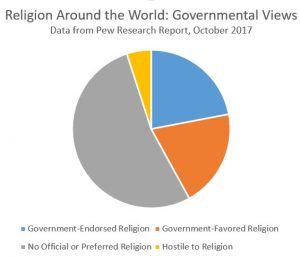 Earlier this month the Pew Research Center published  the results of their analysis of  their study of 199 countries and territories around the world.  They found that more than 40% of these countries or territories (83 of 199), "favor a specific religion, either as an official, government-endorsed religion or by affording one religion preferential treatment over other faiths."
Government-Endorsed Religion
Only four religions have been granted the status of government-endorsed religion in the countries and territories included in the analysis. Listed from most common to least common these religions are
Islam: 27 countries or territories
Christianity: 13 countries or territories
Buddhism: 2 countries
Judaism: 1 country
Government-Favored Religion
Only two religions have been granted the status of government-favored religion in the countries and territories included in the analysis. Listed from most common to least common these religions are
Christianity: 28 countries or territories
Buddhism: 4 countries
Notably, however, some countries or territories have policies that favor more than one religion.
So What?
The Pew findings show that as of 2015:
Government-Endorsed Religion: 43 countries or territories (22%)
Government-Favored Religion: 40 countries or territories (20%)
No Official or Preferred Religion: 106 countries or territories (53%)
Hostile to Religion: 10 countries or territories (5%)
Religion plays a significant role in the world today.  Those interested in traveling, doing business, or simply relating beyond one's country of origin benefit not only from an awareness of the status of a given country's formal religious view, but also from religious literacy more generally.
How has the government view of religion in a specific country impacted you? Share one example.
On a macro level, what are your top concerns knowing that a slight majority of countries have no official or preferred religion while many (over 40%) favor one or more religion, and small number (5%) are hostile to religion?
Tweet