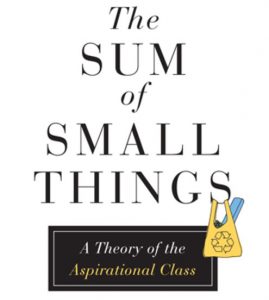 After sharing book recommendations rather irregularly for some time, I offered 10 recommendations last month and now offer another 10 this month.
The following ten books have all been published in 2017. I have rated them on a 1-5 scale allowing for the top of the scale to be extended to a 5+ for the best of the best.
(5+) The Sum of Small Things: A Theory of the Aspirational Class by Elizabeth Currid-Halke (Princeton University Press, 2017)
(5.0) Why I  Left, Why I Stayed: Conversations on Christianity Between an Evangelical Father and His Humanist Son by Tony Campolo and Bart Campolo (HarperCollins, 2017)
(5.0) White Working Class: Overcoming Class Cluelessness in America by Joan C. Williams (Harvard Business Review Press, 2017)
(4.5) The Art of Living: Peace and Freedom in the Here and Now by Thich Nhat Hanh (HarperCollins, 2017)
(4.5) No is Not Enough: Resisting Trump's Shock Politics and Winning the World We Need by Naomi Klein (Haymarket Books, 2017)
(4.0) Following the Way of Jesus: Volume 6 in the Church's Teachings in a Changing World Series –  by Michael B. Curry with reflections by Megan Castellan, Kellan Day, Nora Galladgher, Broderick Greer, Anthony Guillen, and Robert Wright (Church Publishing, 2017)
(4.0) As Kingfishers Catch Fire: A Conversation on the Ways of God Formed by the Word of God by Eugene Peterson (WaterBrook, 2017)
(4.0) How to Be Everything: A Guide for Those Who (Still) Don't Know What They Want to be When They Grow Up by Emilie Wapnick (HarperOne, 2017)
(3.5) When Your Church Feels Stuck: 7 Unavoidable Questions Every Leader Must Answer by Chris Sonksen (Baker Books, 2017)
(3.5) The Religion of Tomorrow: A Vision for the Future of the Great Traditions-More Inclusive, More Comprehensive, More Complete by Ken Wilber (Shambhala, 2017)
So What?
We are living in strange times.  The top three books on this month's list all speak directly to a key issue of our day.  Currid-Halke and Williams focus on divisions within our society at the level of class while Campolo and Campolo focus on divisions within their family based on religion.
Whoever you are and wherever you are on your life journey, you are not traveling in isolation.  We all need to learn about the paths of specific other people as well as the macro level changes impacting what paths are available to which people.
What is the best book you have read this summer? Tell us a bit about it.
What divisions separate you most from other groups of people (race, class, religion, etc.)? What recent articles or books have informed your perspective on this(these) challenge(s)?
Tweet