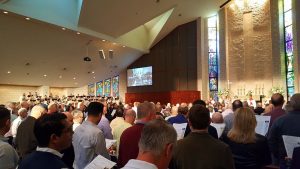 Somehow the first half of 2017 is now behind us. As we enter the second half of the year, I thought it would be interesting to see what posts my readers viewed most often.
Among posts published in 2017, the top five (by view count) are
Interestingly, many older posts continue to be viewed quite frequently.  So far in 2017, the top post from each prior year is
So What?
Knowing what you read helps me as I ponder what to write about in the future.  The lists above include
Bible Reading/Book Reviews: 4
Praying/Preaching: 3
Personal Church Experiences/Visits: 3
Contemporary Issues: 2
Leadership: 1
Please let me know your interest level in these broad topics as well as any other topics you hope I will write about sometime this year.
THANK YOU. Thanks to all of my readers. I appreciate each and every one of you  And, thanks in advance to those who will comment on this post.
Tweet