Marcus Borg (1942-2015) was one of the wisest sages and clearest voices in progressive Christianity. His work has greatly influenced my understanding of the Way of Jesus.
Since I have been publishing an annual list of the top ten books published each year, only a handful of authors have appeared on the list more than once. Marcus Borg is the only author to appear four times
Days of Awe and Wonder
Published in March 2017,  Days of Awe and Wonder is a rich and diverse collection of writings and speeches spanning the last 30+ years of Borg's life. The sixteen chapters include material originally shared from four decades and in many formats:
Date Originally Presented or Published
1980s – 5 chapters
1990s – 1 chapter
2000s – 8 chapters
2010s – 2 chapters
Type of Original Source
book – 5 chapters
sermon – 5 chapters
lecture or keynote – 3 chapters
blog posts or magazine article – 2 chapters
interview – 1 chapter

So What?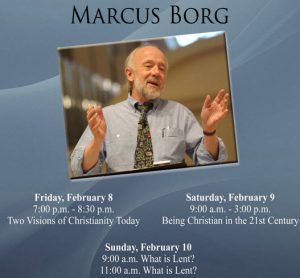 As I read this book I could not help but reflect on my experiences with Marcus Borg, including a weekend I facilitated at Naples United Church of Christ in 2013 that focused on the book's subtitle: How to Be a Christian in the 21st Century.
For those not yet familiar with progressive Christianity, this collection of Borg's work will introduce you to a type of Christianity that is well suited for the current postmodern, post-religious and pluralistic world.  Borg's vision of Christianity is thoughtful and engaging, recognizes that the emphasis of living out the Way of Jesus is focused on this life rather than the next, and invites followers to shared action rather than shared belief.
For those already familiar with progressive Christianity in general and/or Borg specifically, this volume will bring together a more complete picture of what Christianity is, should, and can be. It will encourage you to join in the re-birthing process as together this and future generations help Christianity be born again.  It will refresh your knowledge of the historical Jesus, remind you of the importance of the mystical Jesus, renew your appreciation of the human Jesus, and reorient your thinking of the evolution of Jesus that began following his time walking the earth. Finally, it will challenge you to respond to the prophetic Jesus who brought and who always brings words that call for compassion and justice for all people.
For anyone still reading this post, consider Days of Awe and Wonder to be among the most powerful ways to meet Jesus again for the first time.
Questions to Ponder
How has your understanding of Christianity evolved throughout your lifetime? What people (both those you know well personally and those you have never met) have played major roles in that evolution?
How do you define or explain progressive Christianity? How has Marcus Borg contributed to your understand of this form of Christianity?
Who do you say that Jesus is? How does your answer inform your faith? How does it shape how you live your life?
Book Outline
| | | | |
| --- | --- | --- | --- |
| Chapter Title | Source Type | Source Details | Year |
| Listening to the Spirit | book | Jesus: A New Vision | 1987 |
| Faith: A Journey of Trust | sermon | Calvary Episcopal Church (Memphis, TN) | 2005 |
| My Conversion to Mysticism | book | Convictions | 2014 |
| Jesus, Our Model for Being Spirit-Filled | book | Jesus: A New Vision | 1987 |
| Reclaiming Mysticism | book | Conflict, Holiness, and Politics in the Teachings of Jesus | 1984 |
| Awe, Wonder and Jesus | book | Jesus: A New Vision | 1987 |
| Is Jesus God? | blog posts | Patheos.com | 2014 |
| Taking Jesus Seriously | sermon | Calvary Episcopal Church (Memphis, TN) | 1997 |
| Stand with Jesus | sermon | Calvary Episcopal Church (Memphis, TN) | 2001 |
| Renewing Our Image of Jesus | magazine article | Christian Century | 1985 |
| Healing Our Image of God | sermon | Calvary Episcopal Church (Memphis, TN) | 2000 |
| Living God's Passion | keynote speech | Progressive Christians Uniting (Pasadena, CA) | 2007 |
| Facing Today's Challenges | interview | ExploreFaith.org | 2009 |
| The Heart and Soul of Christianity | lecture | First Congregational Church (Berkeley, CA) | 2006 |
| Encountering the Wisdom of Other Faiths | lecture | University of California (San Diego, CA) | 2002 |
| Listening for the Voice of God | sermon | Calvary Episcopal Church (Memphis, TN) | 2003 |
Tweet