In March 2015, my wife, Susan, relocated to Denton, Texas from Naples, Florida.  Six months later I finished an interim ministry position in Southwest Florida and joined her.
70 Weeks of Searching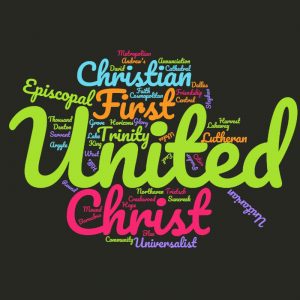 From late September 2015 through early February 2017 (17 months!) we embarked on a one of a kind journey I termed our "search for a church."  Despite our often conflicting professional travel schedules, we managed to worship 61 times in 36 different Mainline Protestant congregations within a reasonable driving distance from our home (reasonable being defined quite loosely and adjusted for lighter Sunday morning traffic).
Along the way I shared weekly "view from the pew" photos on Facebook and Twitter. Additionally, I shared my experience here on my blog through many posts and two occasional series: "Search for a Church" and "View from the Pew."  (Please consider the links below as invitations to more fully understand the path we traveled.)
1 Day of Joining
When we started our search we had many assumptions. The assumption that our search for a church would end by formally belonging to and participating in a congregation was correct just not complete.  Instead, today we joined two communities of faith.  We are excited about being actively involved in each.
In fairness to these two vibrant congregations I do not want to list one before the other.  Since this format requires that I do so, I will list them in chronological (we joined one around 9:30am today and the other just before 11:30am).
Lake Cities United Methodist Church.
United Methodism is one of the only Mainline Protestant traditions with which I have never had any formal and ongoing involvement.  Congregations affiliated with this tradition ranked #1 in total visits during our search.
My wife and I live in the Dallas / Fort Worth metropolitan area. More specifically, we live in small city in Denton County Texas called Corinth (if you are thinking biblical you are on the right track, except that locals pronounce this "Corinth" in a unique way).  Corinth is the most populous city in a group of cities (Corinth, Lake Dallas, Shady Shores, and Hickory Creek) referred to as the Lake Cities.  Lake Cities UMC was the first and only congregation we visited that mentioned our city of residence by name.
Lake Cities UMC (established in 1889) is a community of faith committed to caring for and about the people and the places in the Lake Cities. This commitment translates into more opportunities for people to put their faith into action than is common in congregations of this size.  Lake Cities UMC offers two Sunday morning services that feature the same message with different music and liturgy.  The early classic or traditional service is a bit more liturgical with music leadership provided by a choir. The late blended or contemporary service is a bit more free form with music leadership provided by a praise band.
Cathedral of Hope – a United Church of Christ congregation.
I have known about the United Church of Christ for a long time, but have only experienced the tradition personally since 2010.  I came to this rich unity movement after serving congregations affiliated with Disciples of Christ, Lutheran (ELCA), and Presbyterian (PCUSA) denominations (and after earning three degrees in ministry from universities affiliated with three additional Protestant traditions).  It immediately became a theological home for me as one who self-identifies as a post-denominational follower of the Way of Jesus.
I loved it so much that rather than serving as a member of a local congregation (my original plan), I ended up serving on the staff of that congregation (Naples United Church of Christ) for four years and as an Interim/Transitional Senior Pastor for two other nearby congregations (United Church of Marco Island and Fort Myers Congregational UCC).
Cathedral of Hope (established in 1971) was originally affiliated with the Metropolitan Community Churches, but later ended that bond before becoming a part of the United Church of Christ in 2006.  Like Naples UCC, Cathedral of Hope is one of the largest congregations in the UCC.  This progressive Christian congregation is committed to reclaiming Christianity as a faith of extravagant grace, radical inclusion and relentless compassion. Known in and beyond Dallas for its tireless and timely social justice work the congregation provides two nearly identical Sunday morning worship services featuring musical leadership by a choir and orchestra as well as a smaller and less formal Wednesday evening service.
So What?
Both congregations are a great match for us.  They are both very different and yet also very much alike.
A few key differences include
Size: One has an average worship attendance of around 100 while the other's AWA significantly exceeds 1,000
Location: One is a couple of miles from our home while the other is more than 30 miles away
Diversity: One is comprised almost exclusively of people of like color while the other is markedly more multiracial and multicultural
A few important similarities include
Caring and Welcoming: Both congregations have caring and welcoming as key aspects of their congregational DNA
Way of Jesus: Both congregations focus on the basics of following the Way of Jesus rather than doctrinal minutiae, and do so in environments that encourage individualized faith formation and expression
Call to Action: Clergy and lay leaders in both congregations are gifted in pushing people to ask and answer timely and relevant "so what?" questions
I am excited to share this news with you, and appreciate your continued support.  I would enjoy hearing the story of how you came to be actively involved in your current congregation(s).
If you are not currently an active participant in a community of faith, I encourage you to consider committing to becoming so.  Remember, living out the Way of Jesus requires community.
Finally, I treasure your advice.  Feel free to share any wisdom related to recommendations for beginning well in our next contexts.
Tweet