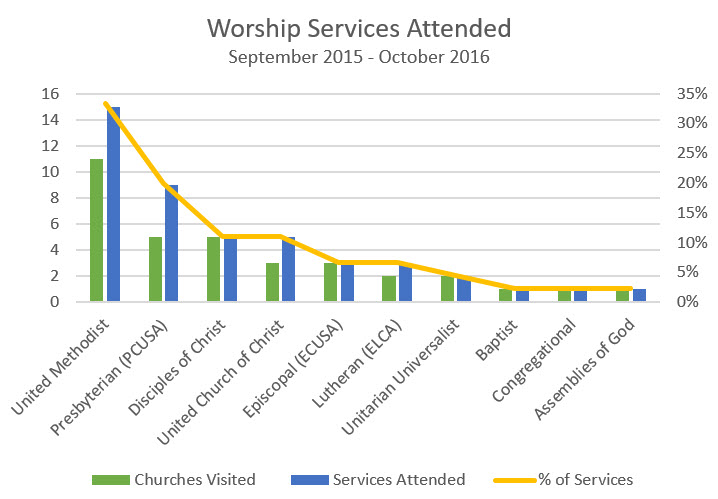 Over the last twelve and a half months, I have attended 45 worship services in 34 different congregations.
Denominations
The chart at right illustrates the number of churches I have visited by denominational affiliation (green), the number of services I have attended in congregations affiliated with each denomination (blue), and the percent of all worship services I have attended by denomination (yellow).
75% of all of my worship experiences have occurred in congregations affiliated with four denominations:

The remaining 25% have occurred in congregations affiliated with six denominations: Episcopal (ECUSA), Lutheran (ELCA), Unitarian Universalist, Baptist, Congregational, and Assemblies of God.
Location
Nearly all of the worship visits have had a single goal: assist in the ongoing discernment process of finding a new faith community for my family.  With this in mind, I would prefer one relatively close to our home, but remain open to driving some distance for a good fit.  Roughly half of all services I have attended have been within 10 miles of our residence.  The other half of the services I have attended are evenly split between congregations that are 10-20 miles from our home and those that are more than 20 miles from our home.

So What?
Some of my regular readers know that my search for a church is now more than a year old.  Those who follow me on Twitter or are friends on Facebook have seen a consistent Sunday morning status message "this morning's view from the pew at Name of Faith Community in City, State" accompanied by a picture.
If you have read "Choosing a Church – New Research" then you know my evaluative criteria are in line with what most people want in their next congregation.
If you read "Search for a Church – 9 Months and Counting" then you know that congregations that are friendly and welcoming, provide effective and mission driven communication, and offer accessible and inspirational worship are those that resonate with me.
If you have read "Search for a Church – Final Four" then you know that the congregations that have reached finalist status vary widely in size, worship style, and pastoral tenure.
And, if you have read much of what I write (or even read my abbreviated bio on the home page of this site), you know I label myself as post-denominational.
Over the remaining weeks of 2016 I hope to answer the question, "Where's Greg worshipping?"  While each week may yield a different answer, I hope that on or before the final week of this year I can share where my family will worship on a regular basis beginning in 2017.
What would you like to know about my search for a church?
What advice do you have for me (and for my wife!) as we conclude our search for a church?
Which of these factors were important to you in your most recent search for a church: distance, denomination, quality sermons, feeling welcomed, style of worship, pastoral tenure?
Tweet