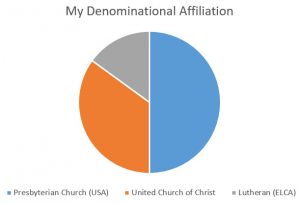 Until around the year 2000 I always thought of the group of churches to which I have belonged as Mainline or Mainline Protestant.  Over the last several years I have heard a variety of terms used that convey the considerable decline in membership and cultural capital.
Data from the Pew Religious Landscape Study shows just how old the Mainline/Sidelined/Oldline Protestant traditions have become.
Mainline

Denomination

Median

 Age

Percent of Members
Age 65+
Presbyterian Church (USA)
59
38
United Church of Christ
59
31
United Methodist
57
32
Episcopal
56
35
Lutheran (ELCA)
55
31
American Baptist
50
19
So What?
The three traditions I have been affiliated with as an adult had median ages of 59 (Presbyterian Church USA), 59 (United Church of Christ), and 55 (Lutheran – ELCA).  By comparison
The median age of all US adults at the time of the study was 46.
The median age of those with no specific religious affiliation was 38.
The median age of those who identified as atheist or agnostic was 34.
When one thinks about the decline of Mainline Protestantism over the last five decades, it is important to also note who remains.  In short, members of these traditions skew significantly older than
the adult population at large
the adult religious population as a whole
the adult non-religious population
If you are a part of a Mainline Protestant congregation:
What do you think the median age of your members is?
What does this overall aging trend mean for your congregation now? in the future?
Tweet