As someone who has spent most of my adult life serving local congregations, the opportunities to visit other faith communities for worship have been few and far between.  In recent months, however, I have been able to participate in worship in many sacred spaces as a guest.
In my final post of 2015 I shared eight images from my "view from the pew" series.  Since the start of 2016, I have been fortunate enough to visit an additional eight congregations.  Images of these experiences follow.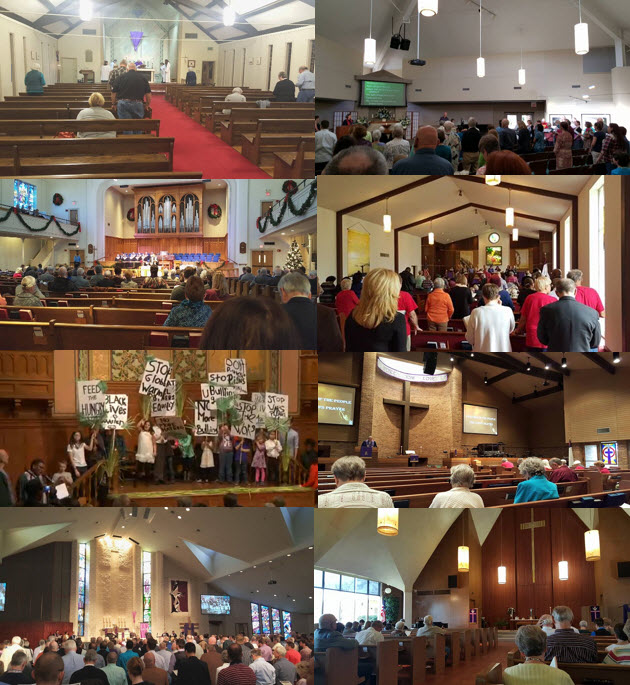 So What?
My view from the pew images tell only a small part of the story of my current search for a church.  These experiences have helped me clarify what my wife and I want in a community of faith. While we have yet to make a decision to become regular participants (much less members!) of any such body, we have managed to remove several we visited from consideration for repeat visits.  We have also identified several additional congregations we plan to visit.
This year my Holy Week experience will include time reflecting on the experiences I have had visiting sixteen congregations.  More specifically
Monday: Identify one way in which each faith community has enriched me as a follower of the Way of Jesus.
Tuesday: Write a one sentence explanation of why I am unlikely to ever visit again each of the 12 congregations my wife and I have removed from our list of consideration for a church home.
Wednesday: Write a one sentence explanation of what intrigues me most about each of the 4 congregations we are considering visiting again.
Thursday: Identify the three most welcoming congregations – those that made it easy for a newcomer to fully participate and that also included authentic and personal welcomes by multiple people (excluding pastors and staff).
Friday: Identify the most challenging message/sermon I heard then revisit and struggle with it throughout the day.
Saturday: Reflect on all of my experiences throughout the week.
What faith practices will you engage in this Holy Week?
Tweet