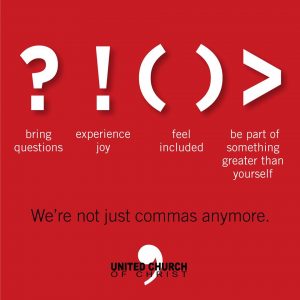 The United Church of Christ has long been known as the church of the comma.  That campaign resonated with me to the degree that I have (and have often worn!) a comma pin. I have also said the line attributed to Gracie Allen on many occasions: "Never place a period where God has placed a comma."  In short, I appreciate the reminder that God is still speaking.
New Punctuation
Since God is still speaking the United Church of Christ's latest additions to the punctuation serve both to expand and reinforce the comma campaign.
bring questions – ?
experience joy – !
feel included – ( )
be part of something greater than yourself – >
So What?
The United Church of Christ has done a much better job of telling its story through traditional and social media than other Mainline Protestant denominations in recent years.
Share one marketing or branding initiative your denomination/tradition launched in recent years that resonated with you.
Which of the new punctuation marks – ?, !, ( ), > – is most important to you in a faith community? Why?
Tweet