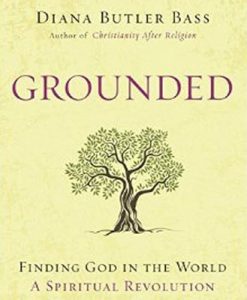 After years of writing hundreds of book reviews, I shifted to monthly book recommendation lists some time ago when my life responsibilities made the work of full length book reviews difficult.  In response to a more recent life shift, I present this month's list as the final edition in this format.
(5+) Grounded: Finding God in the World-A Spiritual Revolution by Diana Butler Bass (HarperOne, 2015)
(5.0) Post-Traumatic Church Syndrome: A Memoir of Humor and Healing by Reba Riley (Howard Books, 2015)
(4.5) Accidental Saints: Finding God in All the Wrong People by Nadia Bolz-Weber (Convergent Books, 2015)
(4.0) Spiritual Defiance: Building a Beloved Community of Resistance by Robin Meyers (Yale University Press, 2015)
(4.0) Gifts of the Dark Wood: Seven Blessings for Soulful Skeptics (and Other Wanderers) by Eric Elnes (Abingdon Press, 2015)
(3.0) Generational IQ: Christianity Isn't Dying, Millennials Aren't the Problem, and the Future is Bright by Haydn Shaw (Tyndale House, 2015)
So What?
Religion has changed.  Anyone who thinks Christianity has not undergone a dramatic shift in recent decades is ignorant or in denial.  Books that help us explore this reality are fewer than one might expect.  Among those written recently, the two atop this month's list are among the finest.
Diana Butler Bass' Grounded offers a beautiful blend of her personal story and the macro shift in the way only she can (for those not familiar with her, Bass brings the wisdom of the scholar, the context of an historian, and the pragmatism of the lay person who happens to preach with some regularity).  This is a book about how people experience God that should be of particular interest to those who lead organized efforts related to such pursuits, especially those who seek to lead communities of faith called church.
Reba Riley's Post-Traumatic Church Syndrome is the story of how (and why!) she found her way back to religion after leaving it behind.  This quest began with an ambitious experiment to sample 30 religious groups before her 30th birthday, but ended with her own eclectic blend of several traditions.  This is a book by a first-time author that brings to life the spiritual seeking that is happening all around us that exists outside of organized religion and yet often samples offerings provided by organized religion.
What resources (people, books, interviews, etc.) have been most helpful to you in understanding the major religious shifts of the last several decades?
How has your view of God changed since 9/11?
Tweet