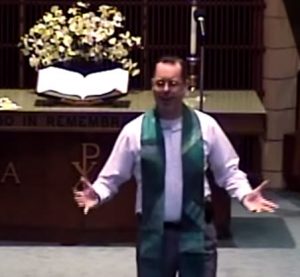 I preached around forty sermons this year at Fort Myers Congregational United Church of Christ (Fort Myers, FL).  According to YouTube views, the most popular messages are
So What?
Last Sunday was my first Sunday of a new professional reality in which I will not be preaching on a regular basis.  As I reflect on the sermons I preached this year, I remember some of the words I said and many of the words others said to me in response to my preaching.  I am thankful for those opportunities, and delighted that thanks to YouTube my sermons remain available.
If you have heard me preach, share one message or one big idea from my preaching that you found especially meaningful for your journey of faith. (If you have never heard me preach, I invite you to take a few minutes to watch one of the sermon videos above.)
What was the best sermon you have ever heard? How has that message impacted you?
Tweet