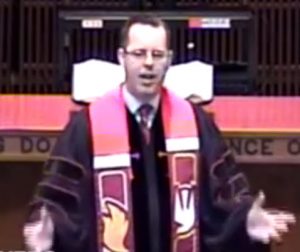 I did not preach today, and I will not be preaching again anytime soon.
Last Sunday I preached my final sermon as Transitional Pastor of Fort Myers Congregational United Church of Christ (Fort Myers, FL).   During my nine months there and for ten months while serving as Interim Senior Pastor of United Church (Marco Island, FL), it was my habit to post my sermon here each Sunday.  Those posts contained the Scripture reading, a sermon excerpt (along with a link to the manuscript and video), application and "so what" data, and questions for personal reflection.
So What?
As my preaching frequency shifts from weekly to infrequently and irregularly, I am rethinking my blog.  My recent pattern had been to post a sermon on Sunday and then one or more posts during the week about a variety of topics of interest to me. My new pattern is not yet decided.
Over six years and nearly 1,600 posts, my blog has evolved many times. I am excited about the "what next" even as the details have not yet become clear.
What do you most appreciate about So What Faith?
What kind of content would you be most interested in reading in the future (examples include book recommendations, book reviews, reflections on sociological data about American religion, discussion of religious happenings and news – US and/or global, consideration of various technology matters for ministry, original progressive Christian content, faith formation resources, etc.)?
Tweet