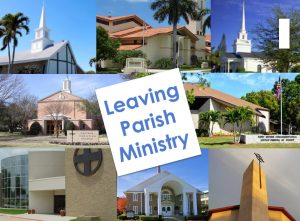 For the last fifteen years I have served in a variety of parish based ministry positions in Mainline Protestant congregations ranging in size from a few hundred to a few thousand.  My job titles have included
Director of Ministries with Children and Families
Youth Director (and Youth Minister)
Associate Pastor
Interim Senior Pastor
Transitional Pastor
Director of Education (and Director of Adult Education).
The job title I have held the greatest number of times is Director of Education.   Education, however, has always been an important part of my ministry regardless of my job title.  My interest in education led me to write my doctoral dissertation in the field of education after completing coursework in ministry and psychology.  My passion for education and desire to devote more of my limited time and energy to it led me to shift from full-time ministry to part-time ministry from 2011-2014 in order to work full-time in higher education administration.
Education continues to call me.  This time I answered by accepting what will soon be a very full-time position helping lead the Education Department (training and development) for a subsidiary of a rapidly growing publicly traded healthcare company.  This past Sunday I shared the news of my upcoming transition with the congregation I am currently serving as Transitional Pastor.
In sharing the next phase of my professional evolution with friends, colleagues, and those I met through one of my ministry positions several people have asked good questions, including
Did something awful happen that led you to make this change?
Will you ever serve another congregation? / Are you quitting the ministry?
Are you leaving the church?
Something Awful
Something wonderful, rather than something awful, inspired this transition.  The wonderful thing that started me on a path that led to this change was my wife, Susan, accepting her dream job to serve as Director of Research Support Services for the Library at the University of North Texas in Denton, Texas.  Her job change set in motion the relocation of our family from Florida to Texas.  It also led me to ask myself hard questions about what kind of work I wanted to do and in what context once I moved.
Quitting the Ministry
In a word: "no".  I am not quitting the ministry or closing the door on future opportunities to serve in and beyond the congregation context.  I am ending my current ministry position late this month.  While I will no longer be receiving a paycheck for my ministry, I don't plan to stop ministering.  In fact, I will continue ministering by blogging here at So What Faith.  I will also continue teaching religion at Hodges University.
Leaving the Church
My blog posts in recent weeks about the Church being obsolete and irrelevant may be the reason this question recurs.  If that is your concern, I invite you to read the posts as I clearly indicate my concern is with the big C expressions of the church – the church beyond the level of a local congregation.  I will be saying goodbye to my current church this month.  Once I relocate, I will plan to visit a number of communities of faith before uniting with any.  I continue to believe that following the Way of Jesus is a lifelong journey that one should never undertake alone.
Giving Thanks
I am thankful for the people who helped prepare me for parish ministry, including
my parents and my wife
so many members of congregation I grew up in
all of the faculty at the many institutions of higher education where I undertook my formal theological education.
I am thankful for those who helped me grow and to understand that pastoral formation is work that never ends – a list far too long for short form writing such as this.
I am thankful that a high percentage of the knowledge, skills, and abilities I acquired in parish ministry will be rich resources for my new venture.  And, I am thankful for a new opportunity to do meaningful work that will make a real difference in the world.
So What?
I tell my story for many reasons, including
I share so that those who care about me can better understand and better support me on my journey.
I tell my story because I am disturbed by the negativity that has become normative when people of faith talk about specific pastors leaving pastoral ministry or when people cite statistics about the number of clergy who quit the ministry.  If a church treats their minister(s) so poorly that such persons feel unable to continue, then that church has a problem.  While that is one reason some pastors transition to other jobs, it is far from the only one.  Others, including myself,  have had many positive experiences with congregations.  My decision to transition out of parish ministry is another way of affirming my gifts, and a change worth celebrating.
I write about my experiences because I have been part of the shift from full-time ministry to bi-vocational, tri-vocational or simply multi-vocational ministry by those with a seminary education.  For many and perhaps even most this shift happened to them as the number of full-time opportunities declined.  For me, however, the shift was something I chose for myself on the path to choosing a job mix that does not include parish ministry.
I share because I want to encourage conversation about minstry and ministers that challenges concepts created in and for earlier eras while promoting real dialog about what it means to be a minister or to do ministry in our post-world (post-Christian, post-denominational, post-modern, etc.).
I offer my story in hopes that it will inspire others to share their stories.
Tweet