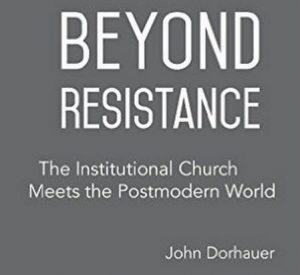 During the month of July I went through what had become a rather large pile of physical books and list of electronic books I had intended to read by mid-year.  I managed to read 16 such books and gave away around an equal number.  The top ten I read that were published last year or this year follow.
(5+) Beyond Resistance: The Institutional Church Meets the Postmodern World by John Dorhauer (Exlporation Press, 2015)

(5) Move Your Bus: An Extraordinary New Approach to Accelerating Success in Work and Life by Ron Clark (Touchstone, 2015)
(5) Joining God, Remaking Church, Changing the World: The New Shape of the Church in Our Time by Alan J. Roxburgh (Morehouse, 2015)
(4.5) The Spiritual Child: The New Science on Parenting for Health and Lifelong Thriving by Lisa Miler (St. Martin's Press, 2015)
(4.5) Process Theology: Embracing Adventure with God by Bruce G. Epperly (Energion, 2014).
(4) Church Refugees: Sociologists Reveal Why People are Done with the Church but not Their Faith by Josh Packard and Ashleigh Hope (Group, 2015)
(4) The Digital Cathedral: Networked Ministry in a Wireless World by Keith Anderson (Morehouse, 2015)
(4) Jesus is the Question: The 307 Questions Jesus Asked and the 3 He Answered by Martin Copenhaver (Abingdon, 2014)
(4) American Mojo: Lost and Found: Restoring Our Middle Class Before the World Blows By by Peter D. Kiernan (Turner, 2015)
(3.5) The Cultivated Life: From Ceaseless Striving to Receiving Joy by Susan S. Phillips (IVP, 2015)
So What?
I first heard of John Dorhauer a few months ago when I learned he was a candidate for General Minister and President of the United Church of Christ.  The more I read about him and the more I talked with people who knew him, the more convinced I became he was the right person to lead this denomination into the future. In fact, the only negative remark I heard about his candidacy was that as a white male he was not a part of any historically underrepresented group.
After reading Beyond Resistance I am certain John Dohauer is well suited not only to help his own United Church of Christ reimagine itself for a postmodern world in which Church 3.0 is increasingly the norm, but also to help Mainline Protestantism do what the United Church of Christ claims as a part of its core identity: to be a united and uniting church.
Disclaimers: (1) I self-identify as progressive postmodern postdenominational follower of Jesus.  (2) I currently serve as Transitional Pastor in a congregation affiliated with the United Church of Christ. (3) Like John Dorhauer, I am a white male with a terminal degree in ministry.
Key Takeaways from Beyond Resistance
All churches (1.0, 2.0, and 3.0) must focus on mission.  The church is about one thing: its mission. "Owning one's mission with clarity, with passion, with purpose and with intention is, I believe, what will keep the Church alive and vital and relevant" (p. 33).
All churches should be the best x.0 church they can be.  The dominant way of being church before the Reformation was Church 1.0, from the Reformation till the late twentieth century ways Church 2.0, and the emerging ways of following the Way of Jesus that emerge from and/or resonate with the postmodern spirit as Church 3.0.  While it is likely that an ever increasing number of all communities of faith will be 3.0 communities as time progresses, this does not mean existing 2.0 churches should all aspire to be 3.0.  In fact, every church is called to be the best x.0 church it can be.  ". . . . whether you are a proponent of church 1.0, church 2.0, or church 3.0, then be it fully and faithfully.  Be that church to the best of your ability" (p.73).

Postmodern communities of faith think and act differently from modern congregations, a shift that is especially apparent in views of clergy and ways to measure faithfulness/success.  Postmodern pastors don't rely on positional leadership, don't speak with authority, and don't serve as the primary liaison between the community and its respective faith tradition.  Postmodern communities of faith are not striving for year over year increases in butts and bucks (worship attendance and operating budget).  Emerging perspectives offer non-hierarchical, experiential, missional, and authentic to their given contexts.  As a result, postmodern communities of faith is already moving toward becoming the post-denominational church.
Tweet