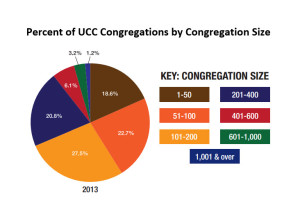 On June 30, I concluded 4+ years of service as Director of Adult Education at Naples United Church of Christ (a tenure that also included a shorter stint as IT Manager).  This ministry role was my first in the United Church of Christ after serving congregations affiliated with the Christian Church (Disciples of Christ), Lutheran (ELCA), and Presbyterian (PCUSA) traditions.
Naples UCC
N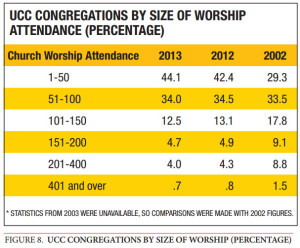 aples UCC is among the flagship churches in the United Church of Christ denomination.
Just over 1% (1.2%) of the denomination's 5,000+ congregations have 1,000 or more members.  Well under 1% (0.7%) have an average worship attendance of 400+.
With a membership of 1,192 and an average worship attendance of 970 (2013), Naples UCC is clearly in the top 1% of all congregations in the UCC. (For more on these and other denominational statistics see United Church of Christ Statistical Profile, Fall 2014.)
My Experience
After serving in full-time lay and pastoral ministry roles for over a decade, I accepted the part-time lay role at Naples UCC overseeing adult education.  With the full support of Senior Minister Ron Patterson, the Board of Christian Education, and the Church Council, I set out to significantly grow the role of adult education in the life of the congregation and to establish Naples UCC as a regional resource for progressive Christian adult enrichment.
Some of my key accomplishments include
increasing the number of educational sessions offered each year by 250%+ and participation by 300%+;
establishing and maintaining high quality standards commensurate with a leading edge program (overall average annual scores from participant evaluations measuring key deliverables as illustrated below);
launching an annual lecture series featuring some of the best known progressive scholars: Marcus Borg, Diana Butler Bass, John Shelby Spong, and Amy-Jill Levine;
developing and implementing a comprehensive marketing plan and overhauling the event planning process; and
managing an evaluation process to determine how individual learning opportunities and the program as a whole compare to stakeholder expectations.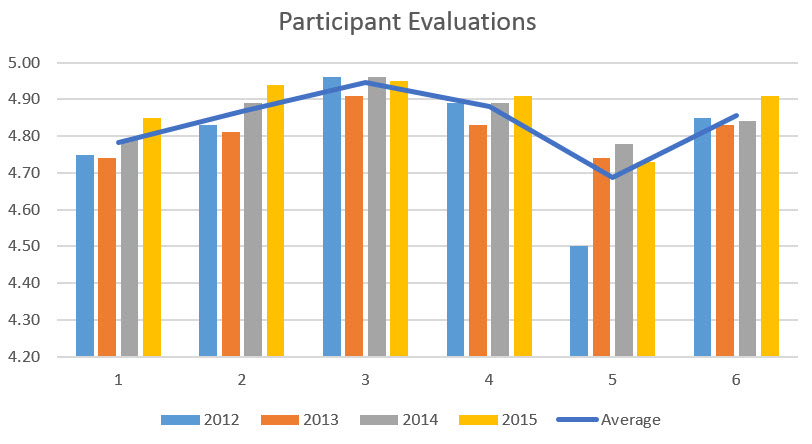 So What?
In addition to my formal job duties, I found my way into a new denomination.  This journey has included
becoming a Member in Discernment in the Florida Conference ,
attending portions of General Synod 28 in Tampa, Florida as well as numerous spring and fall gatherings of the Florida Conference at varying locations,
completing a course in the history, polity and theology of the UCC,
participating in two clergy groups and building relationships beyond my home congregation,
leading worship and preaching on several occasions at Naples UCC, and
serving as requested to assist the Florida Conference with matters related to clergy fitness for ministry and social media.
My positive experiences with the UCC along with my ministry background led me to pursue interim ministry.  While retaining my administrative role at Naples UCC, I served as Interim Senior Minister of the United Church of Marco Island in 2013 and 2014 (276 members and average weekly worship attendance of 142)  and currently serve as Transition Minister of Fort Myers Congregational United Church of Christ (291 members and average weekly worship attendance of 168).
What Next?
Thankfully, God is Still Speaking and I am still listening!  Today, I reflect on and give thanks for the first part of my journey of faith in the United Church of Christ.  While remembering, I also look forward to future possibilities.
Note: Naples UCC is not the largest membership congregation I have served. That distinction belongs to King of Glory, a Lutheran (ELCA) congregation in Dallas, Texas.
Tweet