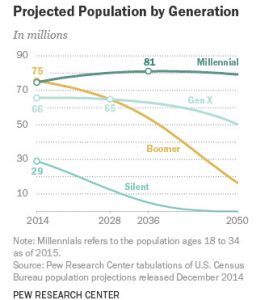 According to the U.S. Census Bureau, sometime this year Millennials will overtake Boomers as the largest generation in America.  The Millennials are projected not only to remain the largest group for the next several decades, but also to widen the gap between their group and that of the next largest generational cohort  (Boomers ranking second through 2028 then being overtaken by Xers).
So What?
Shortly after the Pew Research Center released the report on their latest U.S. Religious Landscape Study, I blogged about the rapid decline in Mainline Protestantism from 2007 to 2014 and noted that with a similar rate of decline we can expect to drop below 3% of the U.S. population by 2070 (we were 18.1% as recently as 2007).
While there are many contributing causes to this decline, Millennials will have an important role to play if we are to slow the rate of the drop much less move toward growth.  Mainline Protestantism (the name I grew up with) shifted to Sideline years ago and is increasingly Oldline given the unusually high average of members (see From Mainline to Sideline to Oldline).  This data when viewed in its larger context is even more troubling as the Pew findings show:
While many U.S. religious groups are aging, the unaffiliated are comparatively young – and gettingyounger, on average, over time. As a rising cohort of highly unaffiliated Millennials reaches adulthood, the median age of unaffiliated adults has dropped to 36, down from 38 in 2007 and far lower than the general (adult) population's median age of 46.By contrast, the median age of mainline Protestant adults in the new survey is 52 (up from 50 in 2007). . .
This reality hits home given the retention problem of Mainline Protestantism. More specifically, the same Pew data shows that only about 1/3 (37%) of young adults who were raised in Mainline traditions still identify as Mainline today.
Share your congregation's generational profile (within your church membership what percentage are Silent, Boomer, X, and Millennial).
Has the percentage of Millennials in your congregation risen significantly, risen slightly, remained stable, declined slightly or declined significantly over the last 5 years?  What key factors do you think are contributing to this shift?
Tweet