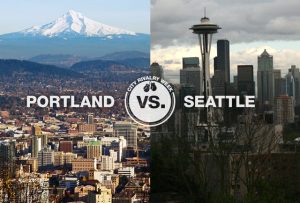 The rise of the nones (those people claiming no religious affiliation) has been a popular topic of conversation since well before I started this blog in 2009.  As one who has long been involved in leadership positions within so-called organized religion, I find this ongoing shift has significant implications for Christian communities of faith.
Earlier this month the Public Religion Research Institute shared the latest statistic: 22% of American adults are now nones.  There are, however, many cities in the country where the concentration of nones is either far higher than or far lower than the average.
Cities with Highest Rate of Nones
Portland – 42%,
Seattle – 33%
San Francisco – 33%, and
Denver – 32%.
Cities with Lowest Rate of Nones
Nashville – 15%,
Charlotte – 17%,
Atlanta – 18%,
Dallas – 18%,
Houston – 18%,
Orlando 0 18%, and
Pittsburgh – 18%.
While these statistics establish our nation's current level of religious non-affiliation and offer some insight into geographical variances, they do not indicate whether or not non-affiliation is still growing in the USA.  Tobin Grant, however, considered just that issue in his article that considers the recently released data from the 2014 General Social Survey (GSS).  In reviewing that data he finds
Since 2012, the U.S. has about 7.5 million Americans who are no longer active in religion, and
the percentage of Americans who left religion increased between 2012 and 2014, reaching its highest level in decades.
So What?
While it is true that the rates of religious non-affiliation are highest among the youngest Americans, it is not correct to assume that as such persons age their levels of religiosity will climb significantly.  Data shows an increase in non-affiliation at every age cohort over time.
Religious non-affiliation has been on the rise for several decades.  Why do you think the increase was more dramatic from 2012-2014 than in the earlier years of the 21st century?
Note: For one possible answer see "Causes of Religious Non-Affiliation"
Tweet