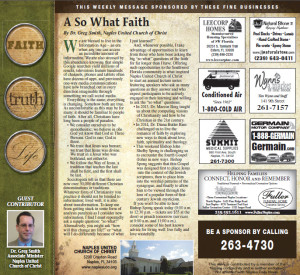 We are blessed to live in the Information Age – an era when any one can access an incredible amount of information.  We are also stressed by this abundance knowing that simple Google searches yield millions of results, televisions feature hundreds of channels, phones and tablets often have dozens of apps, and previously one-way media communications have now branched out in every direction imaginable through something we call social media.
Everything is the same; everything is changing.  Somehow both are true.  As uncomfortable as this may be for many, it should be familiar to people of faith.  After all, Christians have long been a people of paradox.
We consider ourselves to be monotheistic; we believe in one God yet know that God in Three Persons.  God is one; God is three.
We trust that Jesus was human; we trust that Jesus was divine.  We trust in a Jesus who was both/and, not either/or.
We follow the Way of Jesus, a tradition that teaches the last shall be first, and the first shall be last.
Sociologists tell us that there are now over 30,000 different Christian denominations or traditions.  Whatever form of Christianity you practice it should not be limited to information; lived well, it is also about transformation.  To keep me from getting stuck in some form of analysis paralysis as I consider new information, I find I must repeatedly ask a simple question: "so what?"  Alternatively, you might ask "how will this change my life?" or "what will I do differently because of what I just learned?"
And, whenever possible, I take advantage of opportunities to learn from those who have been asking the big "so what" questions of the faith for far longer than I have.  Offering such opportunities to the Southwest Florida community is what inspired Naples United Church of Christ to start an annual lecture series featuring speakers who ask as many questions as they answer and who expect participants to be actively engaged in their learning and willing to ask the "so what" questions.
In 2013, Dr. Marcus Borg taught us about the competing visions of Christianity and how to be Christian in the 21st century.
In 2014, Dr. Diana Butler Bass challenged us to live the romance of faith by exploring new ways to think about love, faith, spirituality and theology.
This weekend Bishop John Shelby Spong is challenging us to encounter the fourth Gospel (John) in new ways.  Bishop Spong suggests that this Gospel was designed first to place Jesus into the context of the Jewish scriptures, then to place him into the worship patterns of the synagogue, and finally to allow him to be viewed through the lens of a popular form of first-century Jewish mysticism.
If you won't be able to hear Bishop Spong speak today (9:00 a.m. to 12:30 p.m. – tickets are $55 at the door) or preach tomorrow (services at 9:00 a.m. and 11:00 a.m.), consider some of his best known advice for living well: live fully and love wastefully.
Note: This post was originally published as a guest spiritual commentary in the February 7, 2015 edition of the Naples Daily News.
Tweet