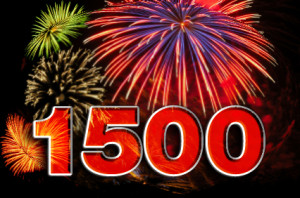 This is my 1,500th blog post here at So What Faith, which offers an appropriate  reason to to reflect.  As I do so, I want to thank my readers.  While you come from all over the world, the vast majority reside in the United States.
Most Visits Originate 
Florida
California
Texas
New York
Illinois
After nearly 5 1/2 years of writing, I recognize just how unpredictable popularity can be.  In fact only a few of the posts I would have guessed would be among my most popular all time ranked in the top 25.  Consider clicking through to a few posts that others have found to be of interest.
Most Popular Posts
Most Popular Book Reviews
Top Series
The Future Church v.2020 – 10 Shifts – posted in 2012
What's Holding Christianity Back – posted in 2013
Top Church Visits
Next Level Church – posted in 2012
Naples Church of Christ – posted in 2010
So What?
I completed my doctoral degree in 2006, moved to Florida in 2007, and launched this blog in 2009.  Since launching the site, I have served three congregations in Southwest Florida –
First Presbyterian Church – Naples, FL
Naples United Church of Christ – Naples, FL
United Church of Marco Island – Marco Island, FL –
and have taught religion at Hodges University.
With each transition, my primary ministerial focus has changed.  With each such change, the blog has shifted a bit as well.  As 2015 begins, I will begin a new role as Transitional Minister at Fort Myers Congregational UCC (Fort Myers, FL).  I look forward to that opportunity, and to the continued evolution of So What Faith.
As I begin thinking about content for 2015, I welcome your input.
What is the main reason you visit So What Faith?
What topics are you most interested in reading about?
What blogs do you recommend that I read on a regular basis?
Tweet