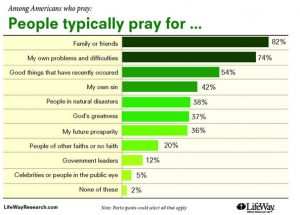 Results of a new LifeWay survey suggest that Americans tend to focus their prayers on themselves and close family and friends rather than the well being of the world or people or causes that are beyond their immediate influence.  More specifically, when given the opportunity to select as many things from a list as they wished, participants indicated they prayed most for
family or friends – 82%,
own problems and difficulties – 74%,
good things that have recently occurred – 54%, and
own sin – 42%.
Interestingly, when asked if they had ever prayed for specific things, many replied affirmatively to some rather unusual prayer topics including
to win the lottery – 21%,
God to avenge someone who hurt you or a loved one – 14%,
favorite team to win a game – 13%, and
finding a parking spot – 7%.
So What?
Prayer is an important part of living well as a follower of the Way of Jesus.  While it is good that people pray for their immediate life situations and for those they hold near and dear, it is essential that, over time, prayer expands to wider concerns as well.
Sometimes that movement can begin with formulaic prayers.  Consider, the
Half of all Americans (48%) pray every day. Are you among them?
What are the top 3 things you have prayed for so far this month?
Which of the models above (or what other models/formulas) have you found to be helpful in shaping your prayer time?
What is the best piece of advice anyone has ever given you about prayer?
Tweet