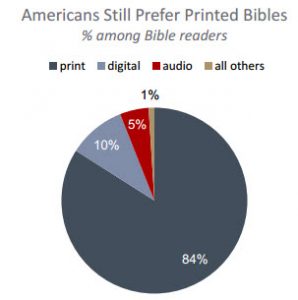 According to recent research conducted by the Barna Group commissioned by the American Bible Society, American Bible readers strongly prefer reading the Bible in an old fashioned printed edition of the Bible.  The preferred formats are
print – 84%,
digital – 10%,
audio – 5%, and
all others – 1%.
So What?
A few months ago I blogged about the tremendous rise in e-reading.  While the report does note a shift toward digital reading the shift is far slower when it comes to the Bible than reading in general.
What percentage of all books you have read so far this year do you estimate you have read in a digital format? How does that compare to the percentage of your Bible reading done digitally?
How soon do you think a majority of Bible reading will be done digitally (e.g., 2022)?
Tweet