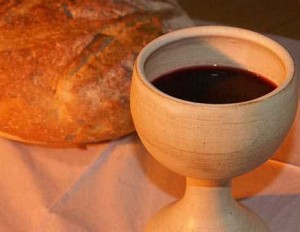 Sermon Text: I Corinthians 11:17-34a (The Message)
Sermon Excerpt
What is it about kitchens that turn them into places for memorable conversations?
Before I share what is perhaps my most memorable kitchen encounter, let me give you a little context.  I had traveled with a rather large church group to another state to do mission work.  We were quite a diverse bunch. The teenagers and college students represented many different Christian traditions, and also included a good number who had no real religious background.
A few days into our work, it was my turn to lead the evening worship experience.  As I was busy at work in the kitchen preparing the elements for communion, an adult chaperone walked in.  Rather than offering to help, he demanded to know what I thought I was doing.
Moments later we were joined by the other adult chaperones.  These leaders were all committed Christians, but an outside observer looking in that evening may have seen our behavior as anything but Christian.
We had sweated together for days while helping oversee manual labors of love.  We were all physically exhausted, and spiritually hungry.
This was a passionate conversation. Raised voices suggested that our topic was both important and emotional.
I remember several remarks . . . We couldn't possibly serve Communion because  . . . (read full manuscript)
So What?
Communion goes by many names (Holy Communion, Eucharist, The Lord's Supper).  People approach it with many understandings (the meal is symbolic; the elements become Jesus' actual body and blood; although Jesus isn't physically present he is spiritually present in the elements;  Jesus is present in, with and under the elements).  Communion must, however, be an occasion for remembrance and the Table a place for unity.
The third verse of Brian Wren's hymn I Come With Joy speaks to the uniting power of Communion:
As Christ breaks bread, and bids us share, each proud division ends. The love that made us, makes us one, and strangers now are friends, and strangers now are friends
How have you experienced Communion as beginning or new opportunity for unity?
Tweet