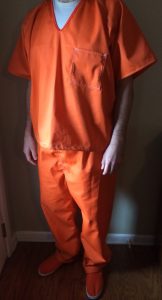 Last year I shared the story of an unusual Lenten discipline: Shawnthea Monroe, senior minister of Plymouth Church, chose to wear a collar for Lent.  This year, I encountered an even more unique Lenten discipline: wearing orange prison jumpsuit.
Kent McKeever, a Baptist youth minister at Seventh and James Baptist Church and an attorney who represents indigent clients through Mission Waco, is wearing the orange jumpsuit throughout Lent "to draw attention to disparities in the sentencing of the poor and minorities"
So What?
Rather than simply serve as a visual reminder of his chosen cause, McKeever is also writing about it on his new blog: 40 Days in Orange.  He is troubled by America being ranked #1 in the world with regard to the percent of its population now imprisoned.  McKeever also believes that the disparity between sentencing based on wealth and race is unjust.  He is working to help individuals while also advocating for broader reform.
What Lenten disciples have you committed to this year? How faithful have you been in keeping them so far?
What is your initial response to McKeever's Lenten discipline?
As a person who follows the way of Jesus, what is your response to America's #1 rank with regard to the percent of its population now imprisoned? with regard to the differences in sentencing based on wealth or race?
Tweet