Naples United Church of Christ, one of the congregations I serve, recently added a public labyrinth to its campus.  This new labyrinth will be formally dedicated at a public ceremony this Saturday, April 5 at 4:00 p.m.
Prior to that event, Lauren Artress will lead a 6-hour workshop: The Wisdom of the Labyrinth.  Registration ($60 today or $75 thereafter) can be completed online.  To learn more about the workshop and labyrinth, check out Kelly Farrell's recent Naples Daily News article.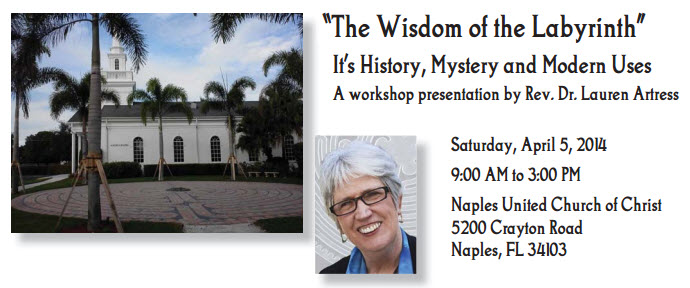 So What?
Previously Naples UCC relied on a canvas labyrinth that was set up in a social hall on an as requested basis.  While such an option was a good starting point, the logistical limitations associated with its usage meant that it was used only a few times a year by a relatively small number of people.  By constructing the new public outdoor labyrinth (and thanks to amazing year round warm weather), the congregation hopes to welcome far more walkers far more often.
Does your congregation have a labyrinth? If so, how is it used? If not, do you know the closest church or other venue with a labyrinth?
What has your own experience of the labyrinth been?
Tweet