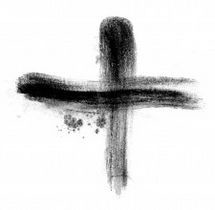 Sermon Text: Psalm 51:1-17
Sermon Manuscript
It doesn't come as a surprise to me that those gathered here this evening are far fewer in number than those who worshiped in this sacred space on Sunday morning.  Ash Wednesday has a way of thinning the crowd – especially the Protestant crowd.  It is a day some have called "the most uncomfortable day of the year."
Ash Wednesday is an unusual sort of service for those of us who are not accustomed to the high church world of smells and bells.  We expect what we know, and we know what we expect.
We don't come forward to receive anything; whatever we need is brought to us.
We don't make the sign of the cross nor do we receive it; the cross it is a symbol that stands tall before us as we worship.
We don't confess our sins or receive absolution from a priest; the only time we find the word sin entering our vocabulary is in the Lord's Prayer.
But perhaps this is exactly why you are here tonight.  You know to expect the unexpected.  You know that Ash Wednesday signals a shift in the liturgical calendar; it marks the start of the Season of Lent.
Lent is a time of heightened spiritual awareness. It is during this period of 40 days that Christians have historically focused more on matters of faith than at any other time of year.  It is a season that emphasizes penance, reflection, and even fasting.
Penance is a . . . (read full manuscript)
So What?
Ash Wednesday is one of those worship experiences that congregations either embrace, offer or ignore.  When I think of these categories I envision
embrace – the service is an important part of the worship life of the faith community, and attendance is strongly encouraged;
offer – the service is provided but isn't viewed as something most would attend nor presented as something most should attend; or
ignore – little or no mention of Ash Wednesday as the start of Lent (and in some cases little or no mention of Lent).
Which of these three words best describes your congregation?  What single word would you use to describe your intent for your own Lenten journey this year?
Tweet