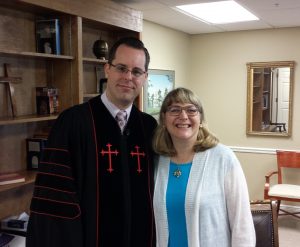 After two years of planning, the big weekend finally arrived.   Naples United Church of Christ welcomed Diana Butler Bass for our annual weekend lecture series.  This year's theme was chosen to compliment Valentine's Day weekend: "The Romance of Faith."
At the kick-off lecture on Friday night, Diana spoke on "The God Who Woos."  She reminded us that our faith is supposed to be a romance, suggested that we consider our teaching of sexuality not as stop signs (what not to do) but as cairns (signposts along the path), and proposed a healthy framework (the 4 Rs) for sexual ethics: responsibility, respect, reverence and reconciliation.
On Saturday morning, she presented two lectures on the Great Commandment based on the view that Jesus never intended his followers to focus on just one (or two) commandments.  Rather, when Jesus originally gave the Great Commandment (Matthew 22:35-40 or Mark 12:28-32), his answer to which commandment was greatest was to say that they are all important: love God (commandments 1-3 or 1-4 depending on your perspective or for the sake of an equally weighted presentation she opted to include 1-5) and love neighbor as yourself (typically seen as commandments 4-10 or 5-10).  Since the 10 all matter, she considered each by stating them in a positive form using contemporary language (e.g., don't steal becomes "build up, honor, recognize, and give credit to others for their gifts and achievements.").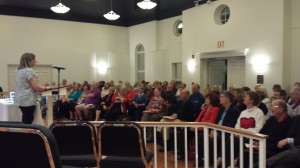 On Saturday afternoon, Diana read excerpts of the book she is currently writing: Grounded: Finding the Spirit of God in the Spirit of the World (tentatively set for publication in October 2015).  This final session also afforded participants an opportunity to ask any final questions related to the entire learning experience.
On Sunday morning, she preached a powerful sermon: "The Journey of Love."  While it is rare to hear a Sunday morning sermon based on the Song of Songs (so rare that I cannot recall the last one I heard or if I ever heard one), Diana's sermon helped me recognize that such an absence is unfortunate.  Song of Solomon 8:6-8 is most often heard at weddings, but really isn't about new love or young love at all.  It is instead about enduring love – love that lasts a lifetime and need not ever end.  Such is the case with the love romantic partners share in this life, and such ought to be the case when it comes to our love relationship with God.
So What?
The declaration that "God is love" must be at the center of progressive Protestantism.  Our weekend with Diana Butler Bass was a time to better understand what it means to say "God is love," and how it is that we can experience that God in our everyday living.
When did you first begin to experience God as a God of love?  How has that understanding evolved in your own life?
How does understanding the Greatest Commandment as pointing to the importance of all 10 Commandments change your perspective (or, if you always understood it in this way, how does this understanding shape the way you live out your life)?
For those familiar with Diana Butler Bass: What book, article, blog post, or talk of hers has had the greatest impact on your journey of faith?  Share your story.
Tweet