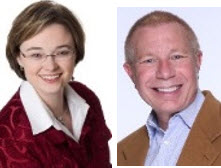 Last weekend First Congregational Church (Winter Park, FL) welcomed Cameron Trimble and Michael Piazza of the Center for Progressive Renewal.  They led a workshop for leaders from churches across Florida focused on marketing, mission and money – three of the most challenging issues facing the church today.
While I was unable to attend, I benefited from it by reading some of the quotes Sarah Lund, Regional Minister of the Western Region of the Florida Conference of the United Church of Christ, shared on Facebook including:
We want new pastors to fix everything and change nothing. –Michael Piazza
The death of the denominations will fertilize the soil for a new movement. The wisdom will be retained and the new vision held and lived into by young leaders. –Michael Piazza
The leader's role during times of great transitions is to hold up clarity of vision.  –Michael Piazza
We are not dreaming big enough dreams. The Spirit is begging us to dream bigger. –Cameron Trimble
People don't want to *just* hear about God, we want to experience God. –Cameron Trimble
So What?
It is essential that every local congregation knows and lives into their unique identity.  The church is changing.  Now is the time for increased innovation.  We are living in a time of energized experimentation.
Which of these three areas is most challenging for your local congregation: marketing, mission, or money?  What type of information and/or what sorts of resources would be most helpful in that area?
How clear is your congregation's identity to the average member or active participant? What are several of the key ways in which identity is regularly communicated?
Select one of the five quotes from above, then reflect on how you understand it to impact you personally and how it relates to your local congregation.
Tweet