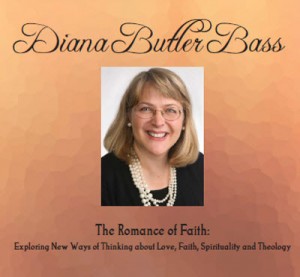 Back in the summer of 2012, I invited Diana Butler Bass to spend some time at Naples United Church of Christ in February 2014.  After eighteen months of planning by a great team, we are now ready for an unforgettable Valentine's Day and weekend.
In the News
Yesterday, the Collier Citizen ran an article by Mollie Page.  Page interviewed Butler Bass about our event.  Page writes:
She's a voice for theological sanity in an uncertain world. Religious historian Diana Butler Bass is coming to Naples for a two-day lecture series, "The Romance of Faith: Exploring New Ways of Thinking about Love, Faith, Spirituality and Theology."

Butler Bass will discuss how Christians can take the central teachings of the bible — namely love of God, neighbor and self — and use it to navigate a world where love has alternate meanings.

"If we truly believe that God is with us, that his presence is behind all life, then we must trust that the spirit is working amidst all these changes and learn to open our lives to this love and not live in fear of the transformation," says Butler Bass.
So What?
Diana Butler Bass' latest book, Christianity After Religion: The End of the Church and the Birth of a New Spiritual Awakening (2012), was  one of my top two books of 2012.
I believe in this event, and want you to be a part.  If you are in Southwest Florida or can get away for a visit next weekend, call the Naples United Church of Christ at 239.261.5469 to purchase your tickets.
Tweet