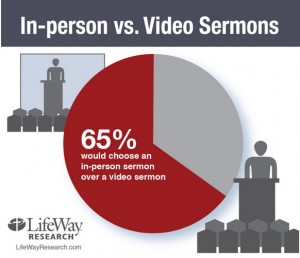 According to the latest survey by LifeWay Research, most Americans prefer in person preaching to a video sermon when attending worship at a church.  About a third (35%) indicated they will only visit churches with services of worship that feature live sermons.  Strikingly, less than 1% prefer viewing a video sermon.
So What?
I have only attended one service of worship that featured a video recording of a pastor's sermon.   Prior to that experience, I disliked the idea.  After the experience, I found that my dislike became even more pronounced.
Do you expect "live" preaching at all services of worship or are you okay with the occasional pre-recorded video sermon?
How do you feel about "live" preaching that features a minister who is preaching from a different physical location (often being shared with several sites as a part of a multi-site congregation)?
What are some positive ways you feel churches should leverage technology as a part of the sermon experience?
Tweet