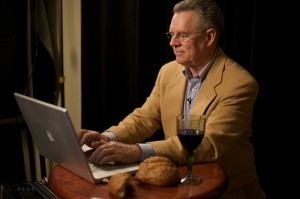 As online worship grows in popularity, churches are increasingly tasked with struggling with significant theological issues relating to this new way of being present (virtual presence) in worship.  One obvious area in need of consideration is communion.  More specifically, can Holy Communion / Eucharist / Lord's Supper be a part of an online worship experience?
While independent congregations are free to decide the matter for themselves, most congregations who are affiliated with a (or with more than one) denomination will likely look to their denomination (network, association, or similar grouping of churches) for guidance.
The United Methodist Church may consider this matter at their General Conference in 2016, since there is no existing policy and the ongoing expansion of online worship is likely.  Recently 30 United Methodist leaders urged the denomination's bishops to pursue a moratorium on the practice.
So What?
Since United Methodists practice open communion, all present at worship are invited to partake.  The group calling for the moratorium was divided on whether or not congregants must be in the same physical place to partake in Communion.  Put differently, it appears some are suggesting that virtual presence is in some way less than physical presence (a few of my thoughts).
Have you ever attended worship online?  If so, what was the experience like? If not, would you consider doing so?
If your congregation offered online worship, would you welcome those virtually present to participate in all aspects of worship, including the sacraments? Why or why not?
Note: For more on the broader topic of the implications of online church, check out my review of Douglas Estes' book from 2009: Sim Church.
Tweet