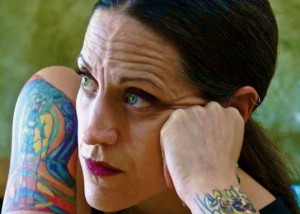 Meet the Author
Nadia Bolz-Weber is the founding pastor of House for All Sinners and Saints, a Lutheran (ELCA) mission church in Denver, CO.   Bolz-Weber is known for her non-traditional appearance and approach.  She is the author of two books: Salvation on the Small Screen? 24 Hours of Christian Television (2008) and Pastrix: The Cranky, Beautiful Faith of a Sinner & Saint (2013).   Prior to attending seminary and entering the ministry, Bolz-Weber worked as a stand-up comic.
Book Basics
Pastrix: the Cranky, Beautiful Faith of a Sinner & Saint has been on my "to read" list for awhile.  It is a book that lives up to its hype (and there has been far more hype by a fairly diverse group of people than I would have expected).  If you don't yet know Nadia Bolz-Weber, expect an excellent introduction to both her life story and her style of communicating the faith.  If you are quite familiar with her ministry, expect to encounter a pastor who doesn't look or sound like most you have known yet effectively communicates God's inclusive love.
The text unfolds a mostly chronological journey through the author's life story that unfolds thematically.  As a gifted communicator, Bolz-Weber shares her experiences in ways that always move beyond them by pointing to great truths of the Christian faith. From her childhood in the Church of Christ to an adult life that she always assumed would end before age 30 due to the lifestyle she was leading she found her way into a Quaker meeting, wound up dating a Lutheran seminary student, and ultimately entered the ministry as a Lutheran pastor.  From the beginning, her ministry has been non-traditional and has sought to reach a crowd that has often been ignored by tall steeple congregations. While her use  of profanity may strike many as odd at best and unnecessary at worst, it is part of what makes her who she is.  Bolz-Weber is nothing if not frank.
Thought Provoking Quotes
"I cannot pretend, as much as I sometimes would like to, that I have not throughout my life experienced the redeeming, destabilizing love of a surprising God" (35).
"Every human community will disappoint us, regardless of how well-intentioned or inclusive. But I am totally idealistic about God's redeeming work in my life and in the world" (592).
"Ugh, Jesus.  He always seems to be showing up when I want him to politely just keep out of my business" (2027).
So What?
According to the New Wineskins Dictionary, a pastrix is (1) Term used by certain unimaginative sections of the church to describe emergent female pastors or (2) female ecclesiastical superhero.  Whether or not the pastrix who wrote Pastrix is the type of pastor you resonate with or not, she is one of the many varieties needed to help move the mainline forward in our postmodern age.
Choose one of the three quotes above.  Reflect on how it has been true in your own experience.
Share how your own journey of faith has been enriched by a pastor who didn't look, talk, or minister in a way that fit within your expectations for what was normative (at that stage of your journey).
Nadia Bolz-Weber.  Pastrix: The Cranky, Beautiful Faith of a Sinner & Saint (Jericho Books, 2013). ISBN: 1455527084.
Tweet