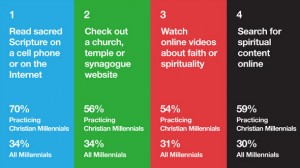 Over the last 10 years, the Barna Group has interviewed 27,140 Millennials in 206 studies. Earlier this month, they released a few infographics displaying what their research finds with regards to how technology is impacting the faith of Millennials (also known as Gen Y – generally considered as those born in the 1980s through the early 200os).  One of the newly released infographics shows how Millennials are integrating technology and faith.  Just how widespread the integration is varies considerably between two groups: all Millennials and those Millennials who are practicing Christians.
Area of
Integration

All
Millennials

Practicing Christian
Millennials

read sacred Scripture on a cell phone or on the Internet

34%

70%

check out a church, synagogue,
or temple website

34%

56%

watch online videos about
faith or spirituality

31%

54%

search spiritual
content online

30%

59%
So What?
Over half of all practicing Christian Millennials now read sacred Scripture on a cell phone or using another device online, check out faith communities online, watch videos about faith and/or spirituality online, and search spiritual content online.  In other words, the majority of those young people seeking to follow the way of Jesus are finding multiple online resources to aid them on the journey.
How many Millennials are active in your local community of faith? What percentage of the congregation is comprised of people in this generational cohort?
How good of a job does your congregation do in providing online resources for these Millennials? in providing resources that direct them to quality online resources created by those outside your local congregation?
Tweet