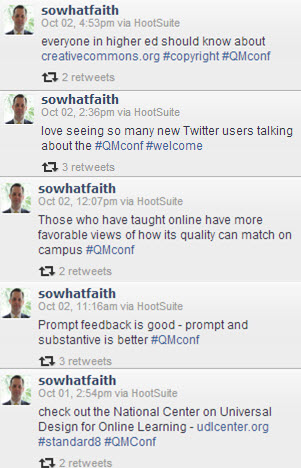 This week I have been in Nashville, TN attending the Quality Matters annual conference.   According to their website, Quality Matters "is a leader in quality assurance for online education and has received national recognition for its peer-based approach to continuous improvement in online education and student learning."  It is the standard Hodges University has chosen to adopt, and will soon be implementing.
As has been the case at all of the professional conferences I have attended in recent years, Twitter was a powerful backchannel.  Over the course of the week I made nearly 100 tweets and read many more.  I engaged in several online and face-to-face conversations as the result of specific tweets.  At right are some of my tweets that were retweeted at least two times.
So What?
Most of my blog readers are not involved in the field of higher education, but are invested heavily in the life of a local community of faith.  Congregations play important roles in faith formation, often relying on educational offerings for all ages.  As the era of face-to-face classroom instruction beginning and ending in face-to-face communication dies, churches must consider how to supplement face-to-face offerings with online resources as well as how to offer fully online classes.
How might Twitter be used to extend the conversation of your face-to-face classes, workshops, and seminars?  What other tools have you promoted that have been effective in this regard?
Has your congregation offered any fully online classes, courses, or other learning opportunities?  What standards are used to evaluate the course design? course delivery?
In both online and face-to-face offerings, how important is it that all of your teachers understand copyright?  What types of training or resources does your congregation offer in this area?
Note: For more on my experience with the power of a single tweet at a conference, check out "Winning a Re-Tweet Award."
Tweet