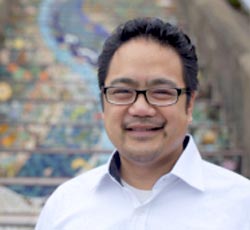 Meet the Author
Bruce Reyes-Chow is an ordained Presbyterian pastor, and 3rd generation Chinese/Filipino.  He is a consultant who previously served as founding pastor of Mission Bay Community Church. His effective use of social media while serving as moderator of the General Assembly of the 2.3 million member PCUSA helped many mainline leaders appreciate the value of social media for ministry. Reyes-Chow has written two e-books: The Definitive-ish Guide for Using Social Media in the Church  (2012) and But I Don't See You As Asian: Curating Conversations About Race (2013).
Book Basics
While anyone can encourage honest and open conversation about race within mainline Protestantism, few can do so with the credibility of Reyes-Chow.  The author is an effective prophetic voice calling his readers to realize that since we do not live nor will we soon be living in a post-racial world, we must recognize and engage in real conversations about issues relating to race.  These difficult but important exchanges are critical for deepening understanding and necessary agents of transformation.
For those who follow the way of Jesus, this necessarily impacts the way they see and respond to race.  Written with a conversational tone that avoids academic inquiry, this quick read is a powerful reminder to the mostly white leaders within the mainline (myself included) that issues of race must receive real attention.
So What?
I often share questions readers should consider for action on the personal level as well as within their communities of faith.  In pondering possibilities for this book, I realized that race has not been a part of the formal educational programs in my parish of late.  As I look ahead to next season, I now plan to include it.  When did your local congregation last offer an adult enrichment opportunity on some issue related to race?
Bruce Reyes-Chow.  But I Don't See You As Asian: Curating Conversations About Race. ISBN: 9780989498135.
For more on the topic:
Scott Williams – Church Diversity: Sunday the Most Segregated Day of the Week (2011) – my review
Efrem Smith – The Post-Black & Post-White Church: Becoming the Beloved Community in a Multi-Ethnic World (2012) – my review
Tweet