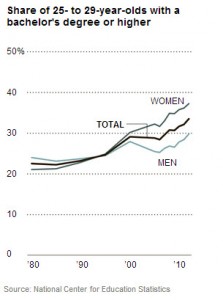 While it is widely known that more young people are attending and graduating from college than ever before in the United States, many people are less familiar with just how dramatic the change is for those in the 25-29 year old cohort.
In a recent New York Times' article, Catherine Rampell notes that the National Center for Education Statistics data shows that the percent of 25-29 year olds with a bachelor's degree or higher rose more rapidly over the last two decades than in the previous period:
2012: 33.5%
1995: 24.7%
1975: 21.9%.
So What?
In simpler terms, during my lifetime the number of young adults (aged 25-29) with at least a bachelor's degree has increased from just over 1 in 5 to just over 1 in 3 Americans.  Additionally, our nation has moved from a young adult world in which men were more likely than women to possess this credential to one in which women with such significantly outnumber men.
While conversations continue about the role of higher education and what reform is needed to attain such, college education remains valuable in many categories including employability.  In the 25-29 year old group, the March data from the Bureau of Labor Statistics shows a great discrepancy based on education:
college gradates with at least a bachelor's degree: 3.3%

high school graduates with no college: 11.8%.
For more on overall trends in college degree attainment, check out my post considering a resource created by The Chronicle of Higher Education.
Is education valued in your congregation?  How is your answer apparent in the DNA of your congregational culture?

How is the continued growth in college degree attainment among 20-somethings impacting your congregation now? What are the likely implications for how this will impact your congregation over the next several decades?
Tweet