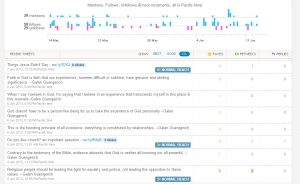 About twenty-four hours ago, I was elated when I read Seth Fiegerman's Mashable piece relaying big news: Twitter released a robust analytics dashboard to all users.  I immediately logged in to my account as directed, and was quite impressed by the data available.  In fact, I was so delighted I passed the news of this new feature on to multiple colleagues.
Within a few hours (thanks to seeing multiple tweets on the topic appearing in my stream) I realized that this new feature had disappeared.  I confirmed the absence then and again this morning.  I encourage you to take a look as well by logging in to the advertising page with your normal Twitter credentials.
So What?
In sharing my ride on the contentment roller coaster I hope to be among the voices of those who love Twitter, love the ability to see how my online activity is received by (and shared by) others, and welcome any free tools that allow me to learn more about the impact of my tweets.  For the wise folks leading the analytics effort at Twitter, please open these statistics to all users.  Better analytics means we will use your platform more often and more effectively in the future.
What do you love most about Twitter?

What, if any, tools do you currently use for analytics?
Would you use this functionality if Twitter provided it on an ongoing basis?
Tweet