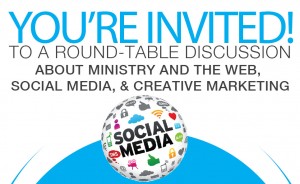 BSM
Almost all current ministry leaders completed their formal education BSM (Before Social Media).   Most pastors, musicians, and educators learned a great deal about their professions, including  how to communicate information about such with constituents and (ideally!) to a wider audience of prospective participants.
Reality Check
What happens when the communication and marketing channels they know best no longer resonate with their constituents?  Increasingly people want to not only control the information they receive, but also how they receive it.  Whether marketing a congregational ministry, an interfaith activity, or community project it is essential that the marketing reach and be deemed relevant by those identified as the target audience.
Best Practices
Every ministry leader needs to learn about and participate in social media.  Every congregation needs to have a team of people, including a staff member, empowered to lead its social media efforts.  These people must be committed to learning from the best practices in the wider industry while appropriating such to the context of ministry through their own filters and in conversation with ministry leaders in their existing networks.
So What?
Recently I attended a round table discussion about ministry and the web, social media, and creative marketing, convened by Nic Patterson.  Nic is the founder of NicNac Design + Marketing and a pastor who has a passion for helping ministries thrive in the digital age.  His invitation to area churches brought together in a single room leaders from a theologically, programmatically, and technologically diverse group of congregations.  The conversation provided a helpful and healthy opportunity for us to learn from one another.  I am glad I not only attended, but encouraged others to participate as well.
Where do you turn to learn about social media and how best to leverage it in your congregation's ministry and mission?

Would you attend (or ensure your church sent a representative to) a round table discussion on this topic if someone invited representatives from a diverse group of area faith communities?  Would you consider hosting such an event?
Tweet