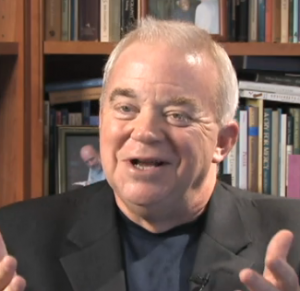 Meet the Author
Jim Wallis is president and CEO of Sojourners where he is editor-in-chief of Sojourners magazine.  He has written ten books including two New York Times bestsellers: The Great Awakening: Reviving Faith & Politics in a Post–Religious Right America (2008) and God's Politics: Why the Right Gets It Wrong and the Left Doesn't Get It (2006).  Wallis regularly teaches a course on "Faith, Social Justice, and Public Life" at Georgetown University.  Additionally, he contributes columns to many newspapers, including The New York Times, The Washington Post, Los Angeles Times, and The Boston Globe .
Book Basics
People are increasingly frustrated by partisan politics and fragmented approaches to the faith that seek to offer paths to success that make life better and bring wholeness to only certain groups of people (who often look just like the people pushing for their vision of the future).  On God's Side: What Religion Forgets and Politics Hasn't Learned About Serving the Common Good is the rare book capable of calling for real reform in the realms of politics and religion by leveraging the strengths of the right and left while frankly naming and challenging the exclusivistic and consumeristic claims of each.  The future of American democracy, Wallis argues, isn't partisan; it is in the redemption of a democracy that restores a deeper and more engaged understanding of citizenship working toward the idea of the common good.
Wallis, an Evangelical Christian prophet, calls upon Christians to leave behind their primary identity as that which comes from fragmented denominations and associations along with the divisive uniquenesses of such to be a part of greater unity envisioned by Jesus.  Rather than being on the religious right or religious left, Christians should seek to be on God's side.  The role of a more united Christian religion is not to mandate its morality on the nation but rather to "challenge politics and hold the public square morally accountable" recognizing no one religion offers the right morality (p.18).
Wallis clearly loves his country and seeks to live out his faith.  His approach blends the best of the conservative political philosophy with the best of liberal political philosophy by uniting personal responsibility and social responsibility.  Rather than offering a detailed map leading to the common good, he delivers a more helpful tool designed to spark conversation and action.
So What?
Politics and religion are two important topics that are not discussed often enough in most of life's many contexts.  Unfortunately, conversations by religious people seeking to approach politics from that frame are even less common.  Wallis' book is the ideal sort for beginning conversation within a faith community or among people from differing religious bodies.  It is powerful enough that it will likely push many book study group participants beyond conversation to action.
When you think of your own political partisanship, what words do you usually use to identify it?

When you think of your own religious particularity, what words do you usually use to identify it?
As a person of faith, how does the idea of leaving behind religious particularity for laboring in love with others within your wider faith community as one, and on God's side strike you?
Jim Wallis.  On God's Side: What Religion Forgets and Politics Hasn't Learned About Serving the Common Good (Brazos Press, 2013).  ISBN: 9781587433375.
Tweet