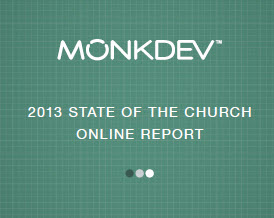 Monk Development's "2013 State of the Church Online Report" contains data gathered from a diverse group of "over 50 churches spread across the United States" that seek to serve their congregation's through the web (p.2).  As I reviewed the report, I found myself returning again and again to a statistic that provides a benchmark for congregations seeking to develop a presence on Facebook.  According to Monk's research, "the average for likes vs. total weekly attendance (TWA) is 54%" (p.13).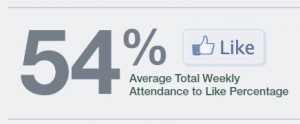 So What?
Facebook matters. It is a place many people go to interact. More importantly for churches, it is the top rated source for information among engaged members of congregations.
What is your congregations likes to total weekly attendance rating (a church averaging 100 in worship with 71 likes would be rated at 71%)?
What are your congregation's measurable goals for the current year with regard to its Facebook presence?
Tweet