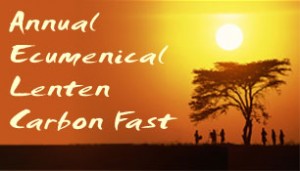 This is the third consecutive year that the Massachusetts Conference of the United Church of Christ is shepherding an Ecumenical Lenten Carbon Fast.  Participants or interested parties can register to receive a daily e-mail featuring a "suggested carbon-reducing activity, "including  information about how significantly such an action will contribute to carbon reduction.  Additionally, the campaign features weekly themes for congregations.  All content is available via the Fast's Facebook page.
So What?
From Ash Wednesday to Easter, we are engaged in a focused season – a shared journey of transformation. During this forty day window some opt for an unusual discipline, others for specific reflective activities, and many more take focus on traditional approaches.
What intentional experiences are fueling your Lenten journey this year?
Have you ever participated in a carbon fast? If so, what was the experience like? Did it lead to changes in your habits that extended well beyond the fast?
Tweet