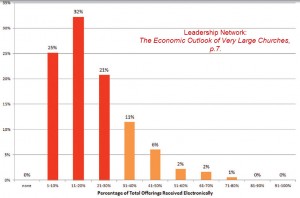 Earlier this month, Leadership Network published Warren Bird's latest research: "The Economic Outlook of Very Large Churches."  This 18-page report considers the overall economic outlook alongside how the surveyed congregations collect, allocate and spend funds.
Electronic giving (e-giving) is an increasingly important means by which churches receive donations.  100% of the churches with average weekly attendance of at least 2,000 receive some of their income via e-giving.  The breakout of e-giving receipts as a percentage of total receipts is displayed in graph form at right.  Put differently, the percentage of congregations who receive electronic income at each statistical tier follows:
nearly 20%  receive between 31% and 60%,
just over 20% receive between 21% and 30%,
just over 40% receive between 11% and 20%, and
only 25% receive 10% or less of their income electronically.
So What?
Very large churches have historically been early adopters of technology for ministry and mission.  It is reasonable to expect that the percentage of income given electronically in these parishes will continue to increase.  As more and more people stop writing checks or carrying around significant sums of cash, congregations of all sizes will need to provide multiple channels for e-giving.
In what year did your church first offer e-giving?  If you church does not yet do so, when will this opportunity be launched?
What are the current ways one can give electronically? How are these opportunities communicated?
What percentage of your church's income is received electronically? How significantly do your budget leaders project this will increase over the next year? next 5 years?
Tweet